In the dubai exhibition our baking soda is widely popular
"2015 Dubai exhibition "was hold in dubai international convention and exhibition center from March 20th to 25th . The activity obtained the support from agriculture minister and government in the united Arab emirates, The Hengyang Hai Lian Salt and Solution chemical co., LTD,Hai Lian Export&Import Co.,LTD,has been invited and attend the exhibition as the only sodium bicarbonate manufacture of China.
the "Hai Lian San Yi" food grade sodium bicarbonate was eagerly awaited by the customers from all the world at the first day.General Manger of Hai Lian Solution and president of Hai Lian export&Import.MR.Aaron has share the propose of food grade baking soda with the all the guests.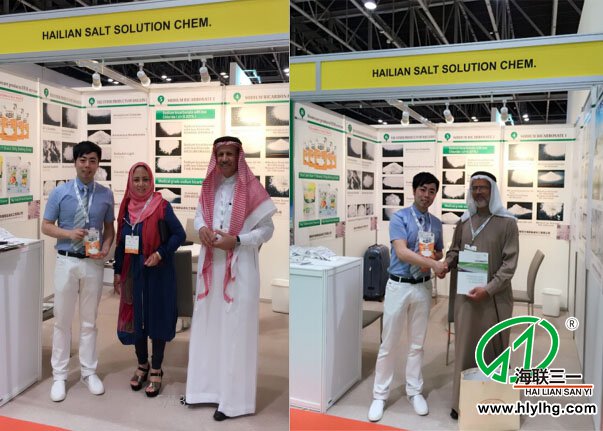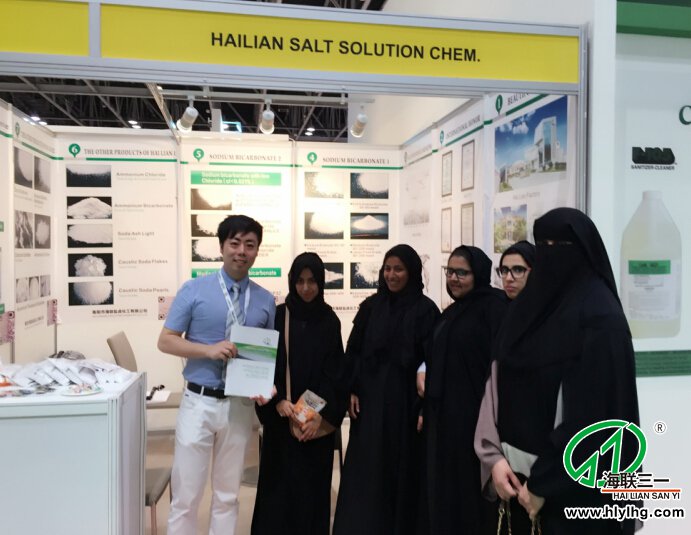 Meanwhile, during the show. some dubai ladies feel strong interested in baking soda, she constantly telling us about how she use baking soda for clean and care her beautiful, soft skin, praised the effect of baking soda is much better than other cleanser, and make her feel safe, she said she will continue keeping baking soda for face wash.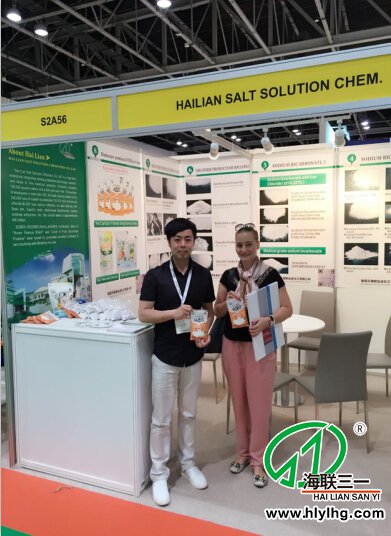 And another lady who it's a full-time housewife is more enthusiasm, she takes a lot bags of baking soda into her luggage and explained to us, because she is in charge of the daily life for the family every day, so should be carefully for any clean step, she must be seriously about no matter dish clean or food clean. she trust food grade baking soda, because only food clean food can make her feel satisfied.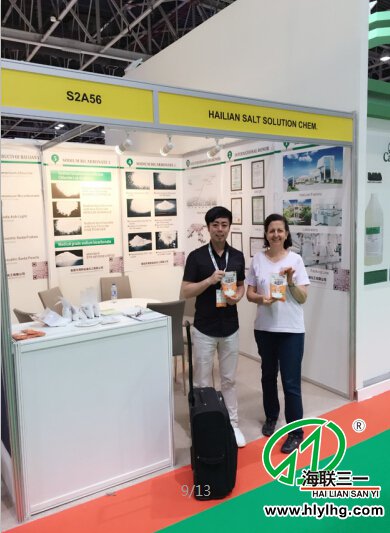 As the products widely popular in the fair.it is easy to see that baking soda is use widely in the international market, because foreigners all get used to use baking soda.our general manager Mr.Aaron said during an interview :"in China, most people think the baking soda is only applicable in baking, actually baking soda also can use for wash fruits and vegetables, tableware, teeth whitening, moisture absorption to taste and homemade soda. Use food clean food, can guarantee the health safety and environmental protection. At the same time,Hai Lian San Yi apply oneself to popularize baking soda products for bring the global consumers a health living area".

Hai Lian San Yi as the world's leading baking soda manufacturers, have more than ten years of production and export&import experience, high quality multifunctional food grade baking soda as our flagship product, we believe that through this exhibition, can let more consumers know and accept, we will provide customers better service and constant innovation.